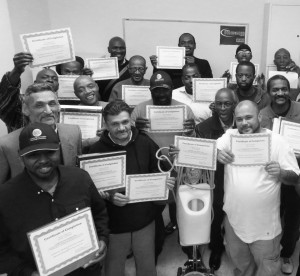 Thanks to your support in 2014, ACE was extremely proud to roll out its Hard Skills Training Program. We began by offering certification courses in OSHA and Food Safety, and then in November we expanded with our most ambitious training yet—Custodial Services. 20 ACE participants, currently in Project Comeback, took part in this 40 hour, hands-on training, and every single one recorded perfect attendance. The attendees now boast competitive resumes that qualify them to work in full-time positions with higher pay and benefits.
We are seeing positive and encouraging results from our 2014 Hard Skills Training, and it is clear that the potential that this new program poses is unprecedented. With your help we are doing more than just putting capable individuals in jobs, we're teaching them to build careers. Together, we are taking action to equip recovering homeless New Yorkers with the tools for self-sufficiency.
We want to congratulate all of our participants and graduates who have been hired or have seen an increase in wage as a result of their hard work in these trainings! We also want to thank all of you who have supported ACE. It is your donations that enable us to continually improve our program and meet our participant's needs.