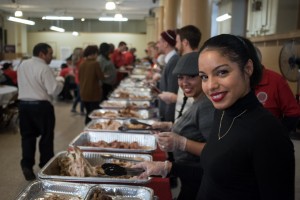 The holiday season was bountiful for the men and women in ACE's Program. We kicked it off with our annual Thanksgiving Luncheon, where we served food to nearly one hundred ACE participants and graduates. With the help of 20 tremendous volunteers, the luncheon was a seamless success. Thank you to those who volunteered their time. You made this a holiday that our clients will not soon forget.
A luncheon wouldn't be much without a lunch, so we also thank all of the incredible restaurants, from right here in SoHo, that generously donated huge portions of food. On this occasion we served appetizers, entrees and desserts from La Esquina, Dean and Deluca, The Cupping Room Café, Hundred Acres, Delicatassen, Mooncake Foods, Boqueria, TriBeCa Treats, Baked by Melissa, the Trump SoHo, and Hood Chef. Thank you for giving back to your community. You are beacons of generosity and good will…and your dishes are delicious!
Following Thanksgiving was our end of the year holiday celebration. We know there is nothing better for a parent than seeing the excitement on their child's face as they first lay eyes on the pile of presents wearing their name. That's why we are giving a HUGE THANK YOU to the Lost Boy's Motorcycle Club, Scholastic, and TriBeCa Film Center for donating a mountain of toys to ACE. After trivia, raffles and a ton of food, we ended the holiday celebration with all of the parents and grandparents in our program receiving a sack full of toys to take home to the kids.
Being able to provide for their families is an enormous motivation for the men and women that join ACE. Thank you for making that goal acheivable. You understand that the gift of ACE keeps on giving. The confidence and skills found here propels individuals into the workforce and enables  them to provide on their own indefinitely. Thank you!