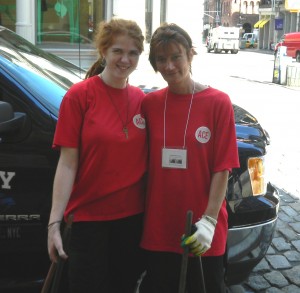 Hello again.  Rachel here, back to update you on Project Comeback's classes. This week we will be leading two job-readiness workshops. The topics are "Skills: How Do I Talk About Myself" and the first part of "Interviewer's Questions: What They Really Mean".
Both of these classes will focus on improving our clients' skills in speaking positively about themselves and in the interview process in general. We will cover the trick questions like "What is your greatest weakness?" and the difficult questions, such as those addressing criminal history. These lessons also provide a great chance to conduct some casual mock interviews. At the end of these lessons, we typically pair off into twos and practice answering some interview questions.
In addition to practicing interviewing skills during the workshops, we also have mock interview sessions once a month with volunteer interviewers. Since these interviews are conducted by strangers, they seem much more real, and it is easier to really get a sense of how comfortable a client is with interviewing. We will be holding these interviews on Monday, August 23rd and Tuesday, August 24th. We are still looking for volunteers to help out with this, so if you would like to come down to our office for a couple of hours next week, and act as an interviewer, please contact me. We love to have new people involved in our program, and adding their enthusiasm.
And from our job developer, Harvey Semler, this week: "There was one new placement in the last two weeks which brings our total new graduation class to seven at this time!" Be sure not to miss our next Project Comeback graduation ceremony on September 24 at 12pm, hosted by The Crosby Street Hotel at 79 Crosby Street.