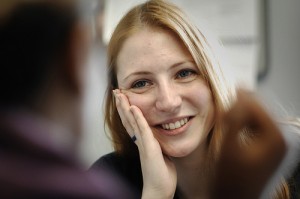 Hi Everybody,
My name is Liz. I'm the Coordinator of Project Stay, ACE's life-long aftercare program. After a Project Comeback graduate finds full-time employment and completes our program, they see me to participate in Project Stay. Project Stay is a truly unique job support and retention program, which is available to all program graduates. Currently, there are over 200 men and women actively participating in Project Stay. Among those in contact, we have graduates from as far back as 1999, as well as graduates living in several different states.
Some of the benefits Project Stay participants receive include: job search assistance, resume updates, reading and math classes, skill-building and career development workshops, and individualized counseling. We also focus on applying the skills learned in Project Comeback: budgeting, time management, and workplace etiquette. Project Stay hosts 2-3 events per month, where graduates come together to share their workplace experiences and support each other in the pursuit of their goals.
The greatest part about Project Stay is that we are very much a family. Graduates not only support each other, they  come back to support current program participants and encourage their successes. Many graduates help out on the crew on weekends, others help plan Project Stay events, and others volunteer their time to speak at ACE events.
If you have been to our graduations, you've heard the remarkable stories of the men and women who come to our program and you've joined us in celebrating their achievements. But you only got half the story. The second half often proves even more incredible: a graduate's first apartment, first promotion, the decision to go back to school, the opportunity to reunite with family members. The adage is true, "Success is not a destination, it's a journey." ACE offers our graduates support along that journey, and has the unique privilege of sharing in their struggles, successes, and all the moments in between.