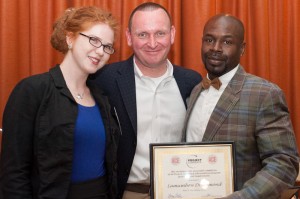 Hey guys, this is Rachel (I'm the lady pictured on the left). I'm a vocational specialist here at ACE; I work daily with our program participants in a workshop setting as part of their job training curriculum.  I've also been partnering with outside human services organizations to expand our Adult Basic Education program, so we can assist the men and women in our program as comprehensively as possible in their rehabilitation.
Project Comeback teaches two job-readiness lessons per week, with topics including skills necessary in looking for work, tips for getting a job, and methods for keeping that job.  This week, we're doing "What Am I Going To Do When I Finish This Program?" and "Interpersonal Skills." The first lesson focuses on issues that may arise after finding employment and ways that Project Stay can help, while the second discusses appropriate communication and social skills in the workplace.  We will go over ways to be an active listener, how to communicate a proper attitude, and the importance of body language.
We also have two Adult Basic Education classes per week: one in Math and one in English.  These classes are held for small groups of anywhere from 3-10 people.  We also hold one-on-one tutoring sessions for those interested.  We are always looking for new volunteers to help with the tutoring sessions, so please contact me if you are interested at rgrinstein@acenewyork.org.
Happy Friday!