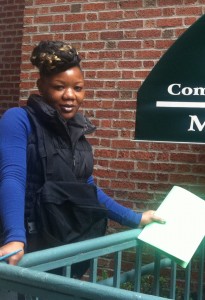 Nicole, a 2013 ACE graduate, is headed to Metropolitan College! Nicole is the proud recipient of the Henry Buhl Academic Scholarship. Below is a brief glance at her harrowing comeback story:
Nicole's childhood was not a dollhouse fairy tale, but a crack-house nightmare. Born and raised in Newark, Nicole's mother was on and off drugs and her older brother was a dealer. Nicole remembers seeking comfort and refuge at her best friend's house, but that turned out to be a devastating mistake, as drugs were more available and accessible there than a glass of milk.  By the time she was 11 years old, sadly, Nicole was in and out of Juvenile detention and incarceration followed.
"My mother used to kick me out of the house if she thought I used drugs," remembers Nicole, "but she would also kick me out when she was desperate for drugs herself and I had nothing to give her."
As a young girl, before the weight of a broken home could be felt, Nicole loved school and spent her free time writing stories. Nicole's mother even encouraged her to pursue education, but Nicole followed her mother's example instead of her words and dropped out of school in the 8th grade.
Debilitated by her addictions, Nicole continued a relentless self-sabotage that brought nothing but guilt and despair.  When she did manage to hold a job, she would scrape her pennies together to get her fix. "Life was dull and meaningless," she said, "getting high was all that really mattered. I was tired of myself, I didn't even know what it was like to be normal anymore."
In 2012, she mustered the strength to fight her addiction, and reached out to the St. Lukes Detox Clinic of New York. After St. Luke's, Nicole sought treatment at ARC in the Bronx, and it was there that her roommate told her about ACE.
"Honestly, at first when I turned to ACE in 2012, I was only thinking about the money that I would get there while training for a job. But after staying with the program for a little longer, I realized that you could hardly put a price tag on what I was getting at ACE", says Nicole, noting that after she relapsed in July and was temporarily suspended from the ACE programs, she felt like she was banned from her heartland. "When I came back in August, 2012, I knew I had the best support system here and I better make it work for me," she said warmly.
Nicole graduated from ACE's job-training program, Project Comeback, in 2013, where she earned a Food Safety and a Serve Safe Certificate. From there, she secured part time work in the kitchen of an Applebee's in the Bronx, and now she is working full-time as a line cook at Bond 45 in midtown, Manhattan. "It's a different world for me. People are so nice and interesting."  She shared, "I saw Barbara Walters the other day—she asked about the food choices and we chatted!"
We are proud that Nicole is also ACE's most recent Project Home participant.  This past June, Nicole moved into an apartment of her own and is receiving a 3 year rent subsidy from ACE to relieve some of her financial burden while she pursues her educational goals.
For Nicole, ACE is the place where she finally received the support she needed to balance her professional, legal, financial, healthcare and housing issues. She gave a special thanks to ACE's Project Stay Coordinator. "Ms. Jackson called me so many times and we talked… She anticipated my needs before I thought I had any!"
We are constantly inspired by the resilience and strength of our participants. We love sharing these hopeful success stories because they are a direct result of your sustained support and partnership of ACE's programs. Nicole deserved a chance to have a safe home and education as a child, but it was taken from her. Now, thanks to you, she gets that opportunity as an adult. It is a dream come true for Nicole to attend Metropolitan College and pursue a degree as a social worker. She plans on being there for young kids as they struggle in afflicted households.
We are incredibly proud of you, Nicole, and we know that you will use your experiences to break a cycle of generational trauma and make this world a better place.