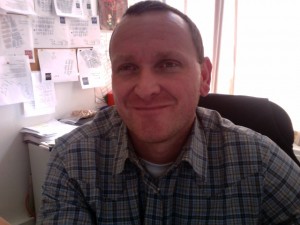 Hi everyone. This is Jim Martin, Executive Director of ACE. I just wanted to introduce myself and quickly mention some of the exciting developments we have going on around here.  It has been a busy couple of months, so here it goes…
First, I should mention our new look! As many of you may already know, the SoHo Partnership was created by Henry Buhl in 1992 to provide vocational rehabilitation services to recovering homeless men and women, and was later followed by partnerships in TriBeCa, NoHo/Bowery and Nolita. Our program participants cleaned the streets and sidewalks of these neighborhoods under our umbrella organization, the Association of Community Employment Programs for the Homeless (A.C.E.). In an effort to streamline our organization and put the focus back where it belongs—on our programs and the work we do in the community, we decided to consolidate the neighborhood partnerships to operate as simply ACE.
United under one name for the first time, we still provide the same amazing maintenance services you've come to expect from our neighborhood partnerships. Our hope is that, as ACE, we'll have a more recognizable presence on the streets, alerting more businesses and residential buildings to the services we provide and ultimately allowing us to help even more of NYC's homeless men and women get back on their feet. Keep an eye out for our new red uniforms on the street, and be sure to say hello when you see our crews out there sweeping!
On to our website. We are so proud of the new design! We hope you will find it easy to use and full of useful information. Check out the world-class photos we've posted of program participants, past and present, and be sure to click on 'Success Stories' for personal words from some of our recent graduates. Kelvin Williams, who graduated from our program last April, was the guest speaker at our annual Gala last week, celebrating our founder Henry Buhl's 80th birthday. He did such a wonderful job, we're planning to post the video of his speech very soon! Stay tuned!
Well, it's time for me to get back to work. I just want to thank all of you who have supported our program and its mission over the last 18 years. With your support, we have helped make a difference in the lives of thousands of New Yorkers who have become homeless. From everyone here at ACE, thank you!