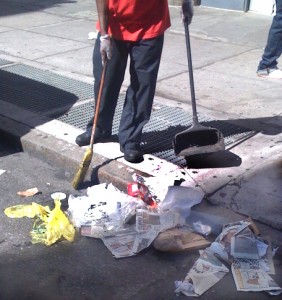 On September 10th, VOGUE, Mayor Bloomberg, NYC & Company and The Council of Fashion Designers of America sponsored Fashion's Night Out in New York City.  A huge crowd of visitors descended on SoHo that night to enjoy the festivities.  Retail stores, restaurants and bars all enjoyed successful nights and everyone involved had a great time.  The big question was 'who was going to clean up the mess?'
The unprecedented amount of visitors to SoHo for Fashion's Night Out generated a huge mess on the streets. At 7:30am on Saturday, trash receptacles overflowed at corners and garbage on the SoHo sidewalks was ankle deep. No street cleaning trucks showed up, building porters were nowhere to be found and New York City failed to provide extra local sanitation services.  This incredible mess was left for ACE street maintenance crews to handle.  The ACE crews began work on the SoHo streets at 8am, just like we do every day, rain or shine, 362 days a year.  With the last minute addition of extra men, women and cleaning materials, the neighborhood was cleaned and back to normal by 4:00pm.  But who paid for this work?
ACE relies on the residents and businesses of SoHo to pay for these services.  Unlike other neighborhoods that provide street maintenance services through business improvement district assessment taxes, SoHo benefits from ACE's work because of the small group that supports our work with voluntary donations. Without this support, the work of ACE would not be possible. Without ACE, the day after Fashion's Night Out would have been much different.
Have you donated to ACE this year?   I am asking you to please consider making a donation to our 365 Campaign so that ACE can continue to provide vital street cleaning services to all of SoHo.  And the next time you are shopping in SoHo, be sure to look for our sticker in the windows of business members.  If it's not there, ask the store manager to support our vital services by donating to the 365 Campaign today!
-Jim Martin, Executive Director of ACE