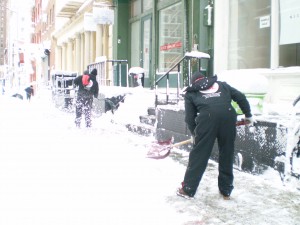 As New York was hit today with yet another winter storm, we wanted to take a moment and thank the hardworking men and women of ACE, who have been out in the cold after every snowfall, shoveling sidewalks and clearing crosswalks.  Jason Goodman, a TriBeCa building manager, raved:
Just a note of thanks to say what a beautiful job our Ace Worker did on our sidewalks at 151 Hudson this morning.  Because of water tunnel construction, it wasn't easy, and they did a magnificent job.  Thanks to your guys, I say let it snow!
To request ACE snow shoveling services in front of your building or store, you can call us at 212-274-0550 or email info@acenewyork.org.