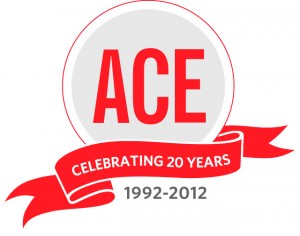 FOR IMMEDIATE RELEASE
Contact: Deana Murtha
Tel: 212.274.0550 x52
Email: dmurtha@acenewyork.org
ACE – THE ASSOCIATION OF COMMUNITY EMPLOYMENT PROGRAMS FOR THE HOMELESS – LAUNCHES NYC AROUND TOWN MOBILE APP
The NYC Around Town guide is a free location-based navigation and directory app of NYC neighborhoods featuring deals and discounts at favorite businesses throughout New York City.
New York, NY November 5th 2012– Savvy New York residents and visitors alike with a fondness for dining and shopping can now access reviews, locations, deals, discounts and more from many NYC restaurants and shops by downloading ACE'S NYC Around Town App right to their phone.
Visit http://www.acenewyork.org/news/guide-app-download.html to get a free download of NYC Around Town. The NYC Around Town Guide has everything you need to navigate NYC neighborhoods including a detailed map with GPS, recommendations to the best shops, restaurants, hotels and spas, local deals and special promotions. The app creates a more intimate experience for its users by displaying real time positioning and allows businesses to highlight exclusive deals and attractions.
"ACE began in SoHo and has expanded to NoHo, West Village, Midtown and the Bronx." said Jim Martin, Executive Director of ACE. "Many of the business featured on our app have supported us over the past 20 years in our efforts to help NYC's recovering homeless men and women achieve self sufficiency through our vocational training program. With our app, shoppers and diners in NYC can join local businesses in their support of ACE programs."
About ACE:
ACE (Association of Community Employment Programs for the Homeless) was founded in 1992 by SoHo resident Henry Buhl. ACE works with homeless men and women throughout New York City providing job training and placement, work experience, housing opportunities and a lifetime support network to help participants achieve their goals and establish economic independence. ACE is funded primarily through private donations. For more information about ACE and/or to make a donation, go to www.acenewyork.org.
###
If you'd like more information about this topic, or to schedule an interview with Jim Martin please call Deana Murtha at 212.274.0550 x52 or email at dmurtha@acenewyork.org