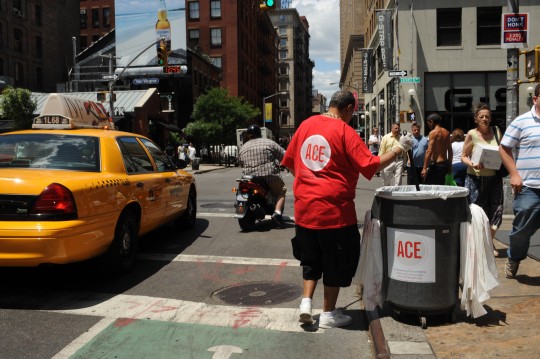 The homeless men and women of ACE take great pride in their work improving our communities, and the community in turn supports them.
Because we are 99% privately funded, the charitable donations from from local businesses and residential partners in the areas serviced by our sweeping crews are essential to keep our programs going and growing.
Participating neighbors become members by making an annual tax-deductible contribution. In return for their generosity, our clients sweep the streets and sidewalks twice daily, removing approximately 15,000 pounds of trash each day. A variety of other community services are available to member businesses and buildings at significantly discounted rates, such as window washing, snow and ice removal, and tree care.
ACE was founded in SoHo. For 19 years, we've kept that historic neighborhood clean and have done our best to give back to a community that has supplied the backbone of financial support for our organization. We have also expanded our sweeping areas to include initiatives in TriBeCa, Nolita, NoHo/Bowery, and the West Village.
The New York City Department of Sanitation has ranked the neighborhoods we sweep as some of the cleanest in the city, and this on-the-job training provides our clients with valuable work experience.