ACE is proud to announce that we are adding a tree and plant watering program as our newest job training initiative. If your residential building has trees or tree planters on the property, ACE crews can care for and tend to them. In this way, you are doing more than improving the air quality and beautifying your neighborhood, you are teaching ACE program participants the rules and responsibilities of the work place and giving them valuable job skills to put on their resume.
ACE offers the following THREE YEAR service contract for watering:
Watering the tree 2-3 times a week during the spring and summer months, and as needed*
Repainting the planter as needed
Ensuring the planter remains free of litter
Pruning as needed
*Residence must provide ACE crews with access to water source.
—————————————————-
If your residential building would like to purchase trees and tree planters, ACE can help facilitate that purchase.
TREES & SHRUBS:
There are a variety of low and high light tree and shrub options. Some choices are as follows (click image to enlarge):

PLANTERS:
There are two choices of above ground tree planters: a traditional Fiberglass Planter and a contemporary Brushed Metal Planter. Each comes with:
Ground soil
Ground cover
Delivery
Placement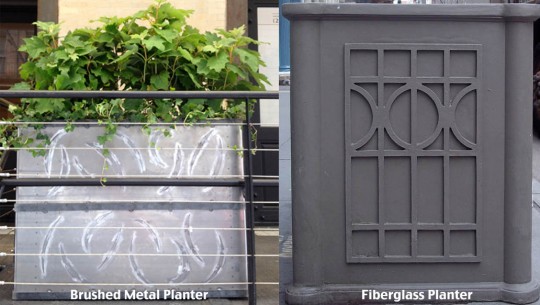 Costs associated with planters and trees are subject to change and are not determined by ACE.
For more information, please contact Mary Balaban at 212.274.0550 x26, or mbalaban@acenewyork.org.