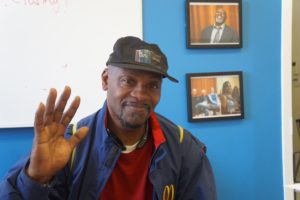 At the age of 29, while serving a prison sentence, Raymond realized he was suffering from decades old trauma. From the time he can remember up until 11 years of age, Raymond lived in an extremely hostile environment, and only years later did he realize the effect it had had on him. His younger brother's father had abused their mother regularly, in front of Raymond.
"My brothers were young," he remembers. "They didn't have to see my mom get violently harmed. It really played a part on me. I wasn't very effective in school and I didn't know what to do. When I look back. I remember I was preoccupied with finding a way to help my mother—to protect and save her. When I explain to certain people the actual details of the violence that went on and how consistent it was, they are astonished."
 "I was preoccupied with finding a way to help my mother—to protect and save her."
Despite the traumatic environment, Raymond was a dutiful and loving older brother. His mother worked a morning and evening shift and in between the shifts she would come home to tell Raymond what he needed to do to take care of his brothers. He fed and bathed them and cleaned the house on a daily basis, all before he was even nine years old.
Into his teenage years, despite a positive relationship with his brothers, the trauma had placed a distance between him and his mother. "I would rather be on the streets than be home," Raymond recalls. "I had no dreams. I had no hope. I was hurting constantly, I was just hurting and hurting and I didn't know how to say it, or if I did say it, it didn't seem that anyone cared."
In his 30's and 40's Raymond had a son and a daughter, whom he loves dearly, but he still was having major struggles and setbacks, bouncing between housing and homelessness and coming in and out of jail for extended periods of time. Despite what the world told him, Raymond clung to his belief that he was a loving person. "I had acquired this long criminal history," he remembers, "and judges and district attorneys and lawyers are saying, 'He's a menace to society.' And I'm saying to myself, I'm nowhere near what you're saying I am, but I can't make anyone see. I just know I'm a kind and loving, affectionate person, but my experiences that I've been forced to be a part of have played a major part on my demeanor and my rearing. I had to survive."
"I'm saying to myself, I'm nowhere near what you're saying I am, but I can't make anyone see."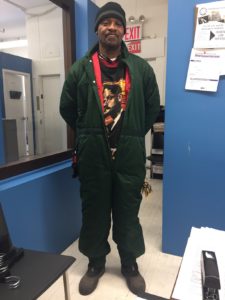 In January 2016, at the age of 54, Raymond came to ACE from a substance use treatment program. He recognized a number of personal barriers were holding him back. "I wasn't confident about having much success with my criminal history," he recalls. "I'm not very computer literate. I had fallen off with my education, my reading and math."
With a full schedule of classes and work experience training, Raymond redoubled his commitment to achieving his goals. Raymond says, "I had to clean the streets. I wasn't particularly crazy about it, but I cleaned the streets and I did a job like I would do in my home. It gave me something to look forward to financially and I was able to give my daughter and my son a few dollars every week."
Through ACE's community internship program, Raymond balanced a maintenance internship at a local church with his schedule of classes. The staff there was so impressed with his work and attitude that in July 2016, after 6 months in ACE's initial program, they offered him a full-time position. Just three months after accepting the job, Raymond had saved enough money to move into his own apartment. "I'm content with what I'm doing right now," he says. It's keeping me emotionally alive, keeping me spiritually alive, it's keeping me mentally alive. I'm happy right now. "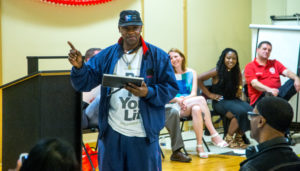 Raymond has now been employed for nine months and in his own apartment for six months. He has a great relationship with his 20 year-old son and is back in his 10 year old daughter's life, rebuilding bonds. He counts himself fortunate and is incredibly thankful to everyone who helped him get here by supporting ACE.
"I thank God for you and for this organization"
"I was in the cell and I was praying to God, if I could just walk down the block again. And here it is, not even a year later and I have my own apartment. I have a job and am back in mainstream society. I wonder if you truly know what you have done. I thank God for you and I thank God for this organization."