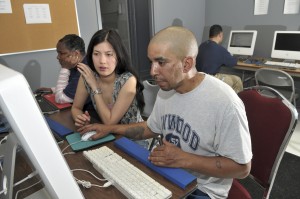 Thanks so much in your interest in volunteering in NYC! We are currently looking for individuals to assist with our job-readiness workshops.  If you are interested in volunteer opportunities at ACE headquarters, please call 212-274-0550 ext. 61 or e-mail info@acenewyork.org.
Want to help the hardworking men and women of ACE outside of our office?  Here are some ways to get started:
1. Run a clothing drive. Collect interview-ready clothes from your coworkers, friends and neighbors.  Everything from new or gently used ties to blouses to socks are welcome to help our clients prepare for what is often their first real job interview.  Contact us to coordinate delivery at 212-274-0550 .
2. Get the word out. One of the most important things you can do is act as an ambassador on behalf of the homeless men and women who are rebuilding their lives with ACE's help.  Encourage your friends to follow us on Twitter and Facebook, or write about us in your blog.  The more online connections we have, the more people will hear about the incredible transformations that are taking place at ACE every day.
3. Become a librarian. We are always in need of new or used books for our library to assist our clients in their reading classes, or simply to unwind after a long day sweeping the streets of New York.  We welcome donations of books of any level (basic literacy to adult) to help build our library.