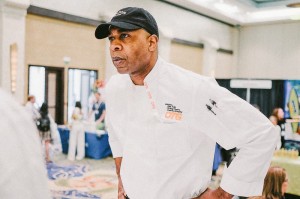 Three years ago, a man named Maceo overcame homelessness and addiction and graduated from ACE's Project Comeback. At the same time, ACE was unrolling a new housing initiative called Project Home. The idea behind Project Home was simple—provide a rent subsidy for committed individuals and they will have the stability they need to further their education and grow in their career. Maceo applied and was accepted, and we are proud to announce that, as of March 2015, he successfully completed the three-year subsidy program. The results speak for themselves.
Maceo graduated Project Comeback, in 2012, by earning a job as a line cook at IHOP. His hourly wage was $12.50. Fast-forward through three years of stable housing, sobriety, and a renewed sense of purpose and you have today's Maceo. Currently, he is the General Manager of an entire food court, and his salary has increased nearly 200% since his time at IHOP, plus full benefits. In addition to career success he has strengthened his relationship with his daughter and family.
Maceo's transformation is yet another demonstration that a dedicated individual can reach entirely new limits when given the proper trust and support. Maceo maintains that, "If I can do it, anyone can do it."
Every single person who has supported ACE in the past three years shares in Maceo's success. An incredible fact to consider is that Maceo is one of thousands of individuals that ACE has helped over the years. Imagine all of the family members and friends that have been influenced and inspired by their turnaround. Consider all of the funding and resources that the city and taxpayers would have spent on housing and treatment. Together with you, our partner, we are transforming lives and communities that in a way that will be felt for generations.