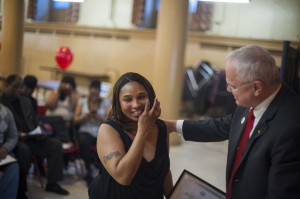 Lillian grew up in the rougher parts of Brooklyn and started smoking marijuana as a young teenager. Her addiction aside, she was leading a normal life; working in food service and spending time with her family, friends and three children. But her life took a turn for the worst in 2007, when her then-boyfriend planted a gun in her diaper bag without her knowledge. Unaware of the weapon, Lillian walked into a federal building, carrying her baby in her arms and the bag over her shoulder, and was arrested on the spot.
Charged with a serious felony and lacking the knowledge and resources to fight for her innocence, Lillian's whole life instantly came to pieces. Having lost her job and custody of her children, she sank deeper and deeper into a vicious cycle of depression, anxiety and drug addiction. "I was in a very dark place, feeling lonely and helpless," she remembers.
Lillian's road back was long and rocky. She entered a treatment program for young mothers in 2009, where she stayed for over two years, working towards becoming sober and regaining control over her life.  However, finding employment with a pending weapon charge to her name turned out to be a tremendous challenge. She attended numerous training programs, hoping they would help her secure a job and a new start in life, but kept gaining nothing but disappointment and lowered confidence.
It was not until she came to ACE in October 2012 that Lillian finally began to feel hopeful about her future. She started re-building her résumé right away, working on the ACE street sweeping crew. She also brushed up on her computer knowledge, as well as the nuts and bolts of job search, interview techniques and workplace "dos and don'ts." Lillian says, "The computer classes were very helpful. I didn't know how to attach a résumé to an email or how to fill out an online job application, but Manny and Ana helped me and let me take as much time as I needed to get it right and do it on my own. I really liked their hands-on, step-by-step approach."
After six months with ACE, in April 2013, Lillian found full-time employment as a maintenance worker in midtown Manhattan. She loves her job (especially the madness of 42nd Street, with its eclectic mix of tourists, performing artists and commuters milling around!) and is happy and grateful to have so many positive and caring people around her. The criminal charges against her have been dismissed and she recently regained joint custody of her two youngest children, who are 5 and 6. Her oldest daughter, who is 13, will reunite with the family once they move into their own apartment later in the fall.
"I will always be grateful to ACE, because they gave me a stepping stone to my new life, "Lillian concludes. "They put the opportunity in front of me – all I had to do was grab it. They helped me find hope and a new perspective on life. I feel blessed to have such positive and loving people in my life – ACE is like my family."