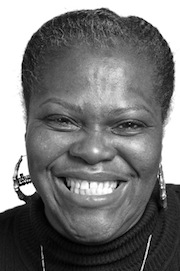 Walking along Prince Street near the corner of Mott last summer, you may have noticed a vibrant and engaging woman speaking to passersby about Use Your Head, ACE's new resale boutique. That woman, Jacqueline, is one of our most recent Project Comeback graduates and we could not be prouder of her success.
Jacqueline was born in Harlem to a good family. She and her twin sister were the babies of the family, but after their father passed away, it was Jacqueline's sister who helped to support their family. In Jacqueline's words, "My twin sister was the good one. I was the bad one." When her sister passed away in 1989, Jacqueline was shattered.
After losing her sister, Jacqueline turned to drugs. She spent the next seventeen years in and out of various detox programs. Although Jacqueline says, "I put my mother through a lot," her mother never lost hope. She continued to bring Jacqueline to drug rehabilitation programs despite the fact that Jacqueline would inevitably leave after a day or two, only to return to her destructive lifestyle. In Jacqueline's words, "I was never 'homeless' because I always had a home with my mother. I just didn't want to go back to my mother's house and have her see me the way that I was."
Eventually, Jacqueline was arrested and ordered to complete a drug rehabilitation program with Day Top. On March 15, 2006, she entered the program and, in her words, Day Top "rescued" her. "It saved my life," she says and certainly she thrived while in the program. She was appointed to be a record keeper, a position of responsibility that earned her significant trust from her supervisors. Jacqueline completed the ten month rehabilitation program and has remained drug-free ever since.
Jacqueline then went on to an eight month training program, where she obtained a certificate in custodial maintenance, but still she struggled to find a job. In January 2009, Jacqueline came to Project Comeback on a recommendation from her vocational counselor. According to Jacqueline, "I grew so much" in Project Comeback.
Jacqueline took great pride in her sweeping work and quickly distinguished herself on the crew. She was honored with a Senior Crew Award both for her impressive work ethic and her inspiring attitude. "You could eat off of my streets!" she would say, but Jacqueline was also known for her exuberance and the positive effect she had on everyone around her.
Before her graduation, we offered Jacqueline temporary employment at Use Your Head and she became a truly valuable member of the team, assisting with our marketing campaign by distributing flyers on the streets of Nolita and spreading the word about the store. Jacqueline says she worked so hard for Use Your Head because, by getting people through the door, she knew she was doing her part to help ACE and the people we serve.
According to Jacqueline, her time in Project Comeback helped her not only to become more responsible, but also to be more giving, particularly when she sees a homeless person on the street or in the subway.
Jacqueline officially graduated from our program on September 18th, 2009, and is now thriving at her job at Nathan's Restaurant in Penn Station. She is still in outpatient treatment and is a member of a wonderful women's group. She is happy to have so many positive people in her life, including her mother, who is thankfully alive and well to witness all that her daughter has accomplished. In the future, Jacqueline hopes to work as a supervisor, possibly in a homeless shelter helping people to find housing and get back on their feet.