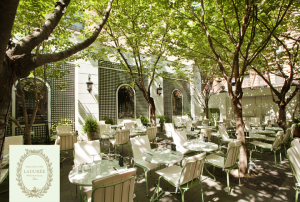 At this year's Gala we honored two of our staunchest and most generous partners, Ms. Elisabeth Holder Raberin and Mr. Pierre Raberin. You may recognize them as the family behind the legendary brand Ladurée, known worldwide for their Macarons and fine food.
Last year, the Parisian powerhouse opened doors to its  first U.S. location, right here in SoHo.  It is a beautiful and spacious restaurant, tea salon and pastry shop, colorfully decorated and with with Macarons spilling over the front counters.
The Ladurée brand is known worldwide for their corporate social responsibility. With the intention of contributing to a flourishing NYC community, Elisabeth and Pierre have literally done everything in their power to help ACE get homeless and impoverished New Yorkers into the workforce. They have hired men and women straight from our program, sponsored and hosted events, and donated their resources. They have become a part of the ACE family.
One of ACE's regular staff, Travis Tinney, caught up with Ms. Holder Raberin and asked her a bit about why Ladurée believes in ACE and what goes into making their restaurant such a special addition to NYC.
Travis: Why does Ladurée support ACE? And how do the two share similar goals? 
Ladurée President of U.S. Operations, Elisabeth Holder Raberin: Ladurée is a family business and growing up my brother and I were always taught to give back and help others. ACE echoes that sentiment and we are so thrilled to be a part of such a wonderful organization that is helping to change lives and better our community. 
What are your goals for Ladurée as a socially responsible and proactive enterprise?
We strive to set high standards in the company that reflect not only our brand heritage but that help propel our business and staff to be part of the community and give back through organizations such as ACE. 
What is it about Ladurée that makes you such a unique addition to the NYC community?
The rich heritage and history of the brand is really unique. Ultimately, Ladurée brings a piece of France to New York through our expertise in food, wine, and pastries—what we call L'Art de Vivre.
What is the philosophy that goes into building the menu at Ladurée? Are you showcasing favorite cuisines? Creating a mood? Do you have a favorite dish?
The menu at Ladurée SoHo is a mix of signature dishes that have been part of Ladurée for years infused with dishes that we knew were a staple in New York. We also have seasonal menu with fresh new ingredients that are in season. My favorite dish is the Vol-au-vent, a puff pastry filled with chicken, wild mushrooms and cream sauce, A Laduree Classic.
What is your favorite aspect of dining at Ladurée in the spring and summer?
The Garden at Ladurée SoHo is my favorite part of the Spring and Summer in New York. It is something we look forward to all Winter. Sitting outside under the cherry blossom trees with the warm sun is just something you cannot take for granted in New York and I am so happy to be able to share that with all of our guests. 
We are very grateful to Ladurée for their unceasing support of ACE, and their belief in a better NYC. You can learn more about everything Ladurée at www.laduree.com, and you can taste it for yourself at 398 West Broadway. Bon appétit!