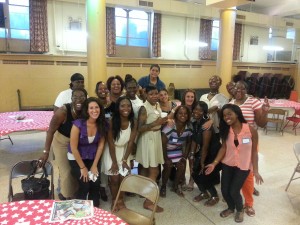 "I came to ACE with absolutely no experience. I was tired of self-abusing and made the effort to stay clean. ACE worked with and they found me a job. They held my hand through everything. From 1999 to the present day, ACE continues to hold my hand." – Marion, 1999 graduate
---
ACE's aftercare program, Project Stay, offers our graduates lifelong support and enrichment services aimed at helping them stay employed, explore opportunities for career growth, and continue to develop their living skills, especially those pertaining to financial literacy and money management. To assist graduates during their transition to self-sufficiency, Project Stay offers regular support groups and one-on-one counseling as needed with a Certified Rehabilitation Counselor. The program also provides a variety of workshops geared toward vocational, educational and personal advancement, covering topics such as communication skills, time management, conflict mediation and work/life balance. In addition, we hold monthly recreational events, where participants socialize, network and catch up with ACE staff and old friends from Project Comeback.
Without your generous support, none of our work would be possible. Please consider making a tax-deductible donation to help the committed New Yorkers we serve rebuild their lives and reunite with their families! Below are some examples of how your gift could help our Project Comeback graduates continue to stay motivated and work toward new goals through Project Stay:
– $1,000 sponsors a "Women in the Workforce Engagement" event for 25 ladies (graduates or current Project Comeback participants) and their daughters.
– $500 provides catering for one career day for graduates, where they can interact with professionals, receive career advice and practice their interview and job readiness skills.
– $175 helps one graduate develop his/her career prospects by attending courses and taking the exams needed to become a licensed Security & Fire Guard.
– $100 sponsors a 15-lesson food protection course and test fees for NYC Department of Health & Mental Hygiene-issued Food Protection Certificate for 4 graduates.
– $75 pays for supplies for our computer lab, where graduates take evening classes after work to continue building their MS Office, typing and general computer skills.
Every gift makes a remarkable difference – thank you so much for your support!
To donate by mail, please send a check made payable to ACE Programs for the Homeless, 30-30 Northern Blvd., Ste. B100, Long Island City, NY 11101. To make a transfer of securities or appreciated stock, please contact Eugene Torres, Director of Finance, at (212) 275-0550 x 22 or etorres@acenewyork.org to obtain our account numbers and other information needed.
ACE is a 501(c)(3) non-profit organization and all contributions to our programs and operations are tax-deductible to the extent allowed by the law.  We are an Accredited Charity of the New York Better Business Bureau, and we meet the 20 Standards of Charity Accountability.