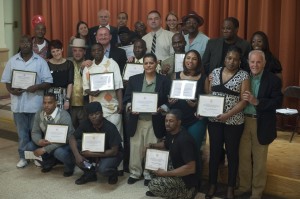 "I will always be grateful to ACE, because they gave me a stepping stone to my new life. They put the opportunity in front of me – all I had to do was grab it. They helped me find hope and a new perspective on life. I feel blessed to have such positive and loving people in my life – ACE is like my family." – Lillian, 2013 graduate
---
Our 4-6 month vocational rehabilitation program, Project Comeback, provides recovering homeless individuals with the skills, support services and motivation they need to obtain and sustain full-time employment and economic independence. Participants receive job-readiness training, supported work experience (providing maintenance services to New York City streets and parks), Adult Basic Education, supplemental skills training (Occupational Safety & Health Administration [OSHA]; Food Protection) and vocational support services, including life skills development and job search assistance. Program activities take place seven days each week year-round, with each participant attending five days weekly, graduating from the program once he/she finds full-time employment.
Without your generous support, none of our work would be possible. Please consider making a tax-deductible donation to help the committed New Yorkers we serve rebuild their lives, become self-sufficient and reunite with their families! Below are some examples of how your gift could help our Project Comeback participants:
$1,000 helps 20 participants increase their earning power by obtaining OSHA certification.
$500 provides weatherproof coverall uniforms for 3 participants, so that they can stay safe and secure while gaining work experience and establishing professional conduct on their sweeping routes.
$250 pays for upgraded software in our computer lab, where participants practice their computer skills, write their résumés and cover letters, and search for jobs online.
$100 funds 25 brooms, which are used daily by participants in their work to keep NYC clean and tidy, while building their résumés and learning the skills they need to secure a full-time job.
$50 sponsors one participant with all the workbooks and supplies needed to complete the educational component of Project Comeback.
Every gift makes a remarkable difference – thank you so much for your support!  
To donate by mail, please send a check made payable to ACE Programs for the Homeless, 30-30 Northern Blvd., Ste. B100, Long Island City, NY 11101. To make a transfer of securities or appreciated stock, please contact Eugene Torres, Director of Finance, at (212) 275-0550 x 22 or etorres@acenewyork.org to obtain our account numbers and other information needed.
ACE is a 501(c)(3) non-profit organization and all contributions to our programs and operations are tax-deductible to the extent allowed by the law.  We are an Accredited Charity of the New York Better Business Bureau, and we meet the 20 Standards of Charity Accountability.