Make a Difference in Person – Volunteer in Our Programs!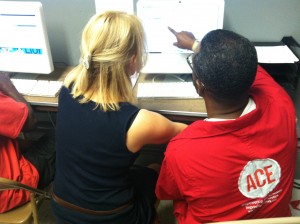 "Thank you for a fantastic day on Friday! It was truly a rewarding experience to work with your organization and help provide guidance to the program participants at ACE. I look forward to making this an annual activity!" – Corporate ACE volunteer
Want to make a hands-on difference in the lives of the people we serve? Then come and volunteer in our programs! By donating as little as an hour of your time, you will be able to make a huge impact in a homeless New Yorker's life – all while feeling fulfilled and more closely connected to your own community.
We offer several opportunities throughout the year for individuals as well as groups to volunteer their time and skills. Anyone who is interested in giving back and supporting our program participants is welcome to join us!
Below is a list of our current volunteering opportunities. To sign up for any of these, please fill out our volunteer application form and email it to Djaratou Aney at daney@acenewyork.org. Thank you for choosing to volunteer with ACE!
Current Volunteering Opportunities:
▪       Conduct a mock interview: Help our program participants prepare for real-life job interviews by bringing out your inner HR person and conducting a mock interview with one of the men or women we serve. We provide you with the questions; you conduct the interview and provide the interviewee with feedback together with her/his case manager. If possible, we ask that you dress in business casual attire for this opportunity.
▪       Assist participants in our computer lab: Engage with our participants as a teacher's aide during our computer lab open hours and help them set up email accounts, search Craigslist, Monster and similar sites for job opportunities, fill out job applications online or attach a résumé to an email. Many of the men and women in our program have never used a computer before, and greatly appreciate any help you can provide familiarizing them with email, the Internet and basic computer commands (copy/paste, attach, click/drag, etc.). 

▪       Help participants improve their reading, writing and math skills: Spend an hour of your time assisting our students in English or math class! Our classes are mandatory for participants who perform below 6th grade level in literacy and math, and cover topics such as basic grammar, spelling, addition, subtraction and multiplication. You will be acting as a teacher's aide, providing encouragement and assistance with basic math, reading and writing assignments in a class setting.

▪     Volunteer in our Career Prep Clinic:  ACE holds monthly Career Prep Clinics to give participants a chance to work with volunteers on their job-readiness goals, and receive assistance with interview preparation, online job search and résumé writing. Working one-on-one with a volunteer is an incredibly valuable opportunity for our participants to ask questions about interviews and job search, receive feedback, and build the confidence they need to succeed in the job market.