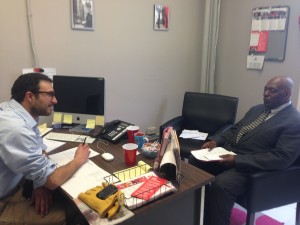 Financials contributions aside, there are many great ways to assist our program participants on their road to success, stability and self-sufficiency. For example, you could:
Volunteer: Donate your time and expertise by helping out as a tutor, teacher's aide or mock interviewer in our programs. Please click here – volunteer –  for more information.
Join our Junior Committee: Become a member of our group of young NYC professionals, all of whom are passionate about social change, and driven by a wish to make a difference in their local community.  To find out more, please click here – Jr. Committee
Organize a clothing drive at your office, school or club: Help our program participants dress well for their job interviews by collecting new or gently used professional attire from your friends or co-workers, and donating the garments to ACE. Your clothing donation will make all the difference in the world to one participant, as she/he heads out on what could be their very first real job interview. Please contact Edward Cen at (212) 274-0550 x 16 or ecen@acenewyork.org to coordinate delivery.
Help us build our library! – Give your old books a new home while contributing reading material for our literacy classes and classroom library! Many of our participants lack even the most basic reading skills when they first come to ACE, and are excited to discover the world of books and literature as their reading proficiency starts to improve during their time with us. We welcome donations of books any level to help our participants develop their literacy skills or just unwind with a good read when time allows. Please contact Djaratou Aney at (212) 274-0550 x 58 or Daney@acenewyork for more information.
Your contribution is essential to the success of our program participants and their families – thank you so much for your generous support!