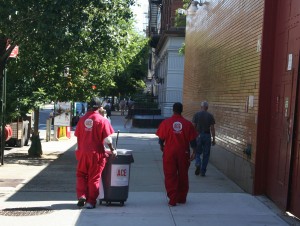 Becoming an ACE business member is an excellent way of showing your support of our program participants and the hard work they put in every day to get their lives back on track, with the ultimate goal of finding a job and becoming self-sufficient.
ACE's maintenance crew sweeps and removes trash from streets, sidewalks and parks all over New York City, including the SoHo, TriBeCa, Nolita and West Village vicinities. Our crew workers empty garbage cans, remove graffiti, dispose of trash and debris, and remove ice and snow during the winter season. They also provide gardening and other special services to some of the neighborhoods we serve. Both of our crew supervisors are ACE graduates – not only making sure the work gets done in a superb and timely manner, but also serving as well-loved mentors and role models for our program participants.
By becoming a member, you are making an important difference in your own community.
Below are just a few of the benefits you'll enjoy as an ACE business member:
A clean and attractive storefront – the NYC Department of Sanitation consistently ranks ACE's service areas among the cleanest in the city.
Deep discounts on our crew's special services, which include tree trimming, graffiti removal, packing, loading/unloading, and painting.
Your logo on the ACE website, promoting you as a socially conscious business that is invested in the local community.
A highlighted spot for your business on ACE's SoHo/Nolita Shopping Guide, which reaches over 250,000 tourists and NYC locals each year.
Opportunities to promote your special offers and events, such as holiday sales or grand openings, on ACE's website and social media pages.
All membership donations/fees are tax-deductible to the extent of the law. For more information, please contact Jessica Cannold at jcannold@acenewyork.org or (212) 271-0550, x 21, or Travis Tinney at ttinney@acenewyork.org or (212) 274-0550 x 26.