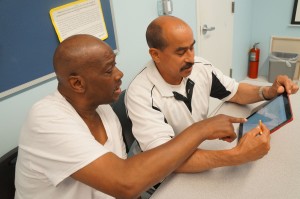 Thanks to a generous grant from the New York eBay GIVE Team, ACE participants now have access to self-directed learning with iPads!
The iPads complement existing lessons by incorporating multiple learning styles, such as visual, auditory, and tactile, as well appealing to kinesthetic learners who prefer to learn new or difficult information through 'real-life' experiences and demonstrations.
iPads motivate students and favorably influence their willingness to learn at their own pace. In addition, these are intuitive products; and using them is a very pleasant experience that does not require prior training. ACE staff have already augmented the learning experience for students by integrating apps that include OSHA, food handling and construction safety education.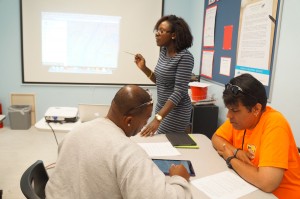 This is a great technological advancement for us and we are incredibly grateful to eBay for making this expansion of the ACE Solutions Lab possible. The more our clients learn, the more they realize their own potential and gain confidence, and that is the key to sustaining employment. If you are interested in taking a tour of our Program to see ins and outs of getting these men and women back to work, please contact: mschuster@acenewyork.org.