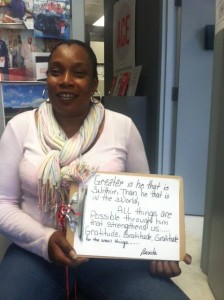 Benita is a native New Yorker, who was raised in a big, loving family with two brothers and two sisters. Growing up in a rough neighborhood, she got involved with the wrong crowd and started experimenting with drugs already as a young teenager – but before she knew it, her occasional habit had spiraled into severe addiction.
Despite struggling with grave substance abuse problems for most of her adult life, Benita managed to maintain a household and to work steadily as a housekeeper, hair stylist and call center employee. But her dream of starting her own family was abruptly cut off at several times. At the age of 18, she carried her first pregnancy, which was followed by many more, but due to her substance addiction, all her babies were removed from her custody immediately upon their birth.
Benita's tipping point came in 2011, when she was laid off from her job, lost custody once again of her newborn baby boy, and her boyfriend ousted her from their apartment, leaving her homeless with nobody to turn to for help.
"The birth of my son, the ACS taking him away and my significant other putting me out – all of this made me realize that at the age of 45, I had nothing. I had achieved nothing in my life. I felt like a nobody," she says.
Benita had many obstacles to overcome before she could start rebuilding her life. She entered a treatment program for women, where she remained for almost a year, working towards sobriety and recovery.  In early 2013, her caseworker at the treatment center referred her to ACE's vocational rehabilitation program, Project Comeback, where she quickly distinguished herself as one of our star participants. Thanks to her friendly personality and professional demeanor, she was even selected to work an internship manning ACE's front desk and assisting agency staff with administrative duties.
"ACE changed my life," Benita offers. "The curriculum, job preparation, workshops and computer classes were all very intuitive and relevant. The staff are so helpful – they have empathy, they take the time to listen, and they're always there for you when you need to talk. My counselor, John, was hard on me, but also very reassuring. He wouldn't let me put myself down, second-guess myself or have any kind of doubt. Thanks to John, my confidence has improved a lot."
After less than four months of hard work at ACE, juggling her office internship with street sweeping work, literacy classes, computer training and job search, Benita had successfully obtained the skills, work experience and confidence she needed to find full-time employment as a food assembler at a healthy meal delivery service. Only a few months later, custody of her youngest son was reinstated, and in the fall of 2013, she managed to secure permanent housing for her new little family.
Today, Benita continues to thrive in all her new roles, and is excited about her brand new life as a busy mom with her own household, a toddler and a full-time job.  She loves being a mom and was beaming with joy when she, for the first time in her life, got to spend Thanksgiving and Christmas with her little boy in their new home. "I am so grateful for my job and for my son," she says. "My goal is to make a really good home for him. I want to go back to school and earn my GED, but my first priority is to be a good mother for my baby. "
Benita describes herself as "a true people person" and hopes to eventually enroll in higher education, so that she one day may be able to work in human resources. She advises new Project Comeback participants to be humble, keep an open mind and trust the staff. "It's only as hard as you make it. You can either go with the grain or go with yourself. Nothing changes if nothing changes – that's my advice," she concludes.
---