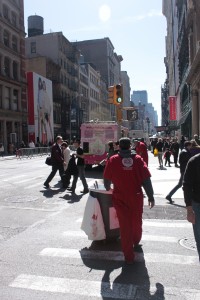 ACE crews—dressed proudly in their bright-red uniforms—have become a ubiquitous part of SoHo.  We regret to announce, then, that as of July 1st, we will no longer sweep Broadway between Houston and Canal Streets.
The private support ACE receives among Broadway business and property owners has dropped.  As a nonprofit organization, we have an obligation to our clients to maximize the return of our efforts.   We can no longer send our crews out to sweep busy Broadway sidewalks at a significant financial loss.
Over the years, we have helped thousands of men and women end their cycles of homelessness and dependency.  We also have removed tons of trash from our city's sidewalks.  To do so, ACE relies on the contributions of New Yorkers to support our sidewalk cleaning operations; pay our clients their weekly stipends for their hard work; and fund the social service component of our program that is vital to our participants' long-term success.
We of course are still committed to the SoHo community.  We will continue to maintain the bus stops along the corridor, and ACE trash cans will remain on street corners.  Further, efforts are underway to establish a SoHo Business Improvement District.  If successful, ACE will be among the bidders for the BID's sanitation contract.
If you have any questions or concerns about this matter, please contact Jim Martin, our Executive Director, who can be reached at (212) 274-0550 x61 or jmartin@ACEnewyork.org.
We thank all the generous partners along Broadway who support our mission of empowering homeless men and women so that even more homeless New Yorkers might take advantage the opportunity we provide and rebuild their lives.