Mission Statement
ACE works with homeless men and women throughout New York City, providing job training, work experience and a lifetime support network to help our program participants achieve their goals and establish economic independence.
Conflict of Interest Policy
A. Members of the board shall not personally benefit as a result of their board involvement except for reasonable compensation of services rendered. The purpose of this provision is to prevent Board Members from acting primarily on the basis of financial self-interest and to prevent the (organization) from operating in a manner that favors board members to the detriment of others.
B. In the event that the board considers an issue that involves the financial relationship between the organization and a member of the board, the Board Member will disclose to the Board the financial relationship that the particular board member has, with respect to the issue, the Board Member shall refrain from voting on the matter.
C. Board Members who serve as an employee or volunteer in a decision making capacity on behalf of another organization which the (organization) is working with or transacting business with, shall inform the Board President and the Executive Director as to their involvement in the said organization.
D. It should be mentioned that the Conflict of Interest Policy as enumerated herein applies to a board member's immediate family as well as themselves.
E. Staff and their current spouse, if applicable, are restricted from serving as voting members of the Board and former staff members are restricted as voting members for a period of two years from the date of their separation as the staff member of the (organization).
F. Staff shall not engage in any outside activity or employment which involves the direct or indirect use of information obtained as an employee which shall provide financial gain to him or herself or a member of his or her immediate family without the express consent of the executive director. The Executive Director shall not similarly act without the express consent of the President.
Financials and Policies
Most Recent IRS 990: 2010 2009
Most Recent Audited Financial Statements: 2010 2009
Most Recent Combined Annual Charity Report: 2010 2009
For access to previous years' documents, please click here to search Foundation Center's 990 archives or contact us at info@acenewyork.org.
ACE is proud to be a Better Business Bureau Accredited Charity.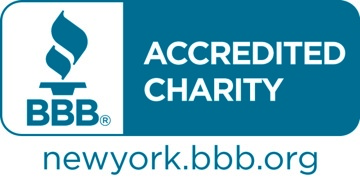 Privacy Policy
The Association of Community Employment Programs for the Homeless (A.C.E.) and its subsidiaries respect the privacy of our website visitors and do not collect any personal information from them.
We do not attempt to track any other databases with the purpose of individual website users. We do not track IP addresses or deposit any "cookies" in an attempt to gain information about users.
When visiting links to others sites, we encourage you to review the privacy policies and statements of each site you visit.
Any questions and comments regarding the this privacy policy should be directed to:
Phone: 212-274-0550 ext. 61
E-mail: JMartin@acenewyork.org