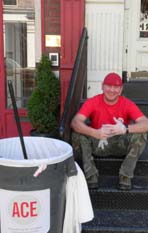 Jim Martin, Executive Director
After graduating from SUNY New Paltz in upstate New York with a Bachelors Degree in Sociology, Jim worked with MICA (mentally ill, chemically-addicted) adults for Transitional Services of New York in Long Island, where he was ultimately promoted to Senior Case Manager. He then moved on to manage a group home for eight developmentally disabled youths at Pederson Krag of Long Island for three years.Jim started working at ACE as a Job Developer for Project Comeback, where he was extremely successful and well loved. In early 2005, he was offered the position of Program Director, and, in 2007, Jim was named Executive Director.
---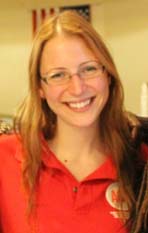 Elizabeth McNierney, Programs Director
Elizabeth was raised in northern New Jersey and graduated from Muhlenberg College in Allentown, PA with a double major in Anthropology and Sociology. While in college, she worked as an HIV/STD pre- and post-testing counselor, raised money for reproductive health clinics, and implemented an after school 'healthy living' program for urban youth. Her past experiences have also included providing daycare and support services for job seekers at family shelters in New Jersey and interning at a rights advocacy group for homeless New Yorkers.Elizabeth was hired at ACE in 2008 as the coordinator of its aftercare program, Project Stay. She became the program director in 2012 and is enthusiastic about continuing to work with ACE, helping homeless New Yorkers reclaim their lives.
---
Travis Tinney, Director of Development
Travis was a midwest boy, hailing from the northern Illinois suburbs just outside of Chicago. After studying Creative Writing and Spanish at the University of Arizona he shipped abroad to spend 27 months working in development and teaching English through the Peace Corps in the mountainous dreamscape of Kyrgyzstan. Since that time he has worked on development projects in Central America and managed a small business in the historic Maryland town of Frederick. Travis has been with ACE since early 2013 and became the Director of Development in 2015. Connecting people, businesses and ideas with the goal of helping the men and women at ACE achieve their potential is a true blessing in his life, and he looks forward to each challenge, hardship and success.
---
Eugene Torres, Director of Finance and Human Resources
New Jersey native Eugene has a Bachelors in Science in Economics from SUNY Plattsburgh and in 2005, he received the Brian D. Scanlon Award for Excellence in Economics. Eugene began at ACE in the summer of 2011 after working as a legal writer for Binder & Binder and Operations Manager for eco-friendly jewelry company Ruff & Cut. His responsibilities include accounting, insurance, payroll and all HR duties. Eugene is thrilled to be working in an environment where he can help people in a direct and meaningful way.
---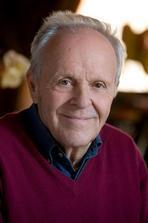 Henry Buhl, Founder
Henry Buhl, philanthropist, community activist and art collector, was born and raised in Detroit, Michigan. After attending Trinity College in Hartford, Connecticut, he worked as a stock analyst and institutional salesman on Wall Street for ten years. In 1961, he moved to Geneva to manage mutual funds for Investor's Overseas Services, eventually becoming the IOS Executive Director. He returned to the United States in 1972 and continued his career in investment banking until 1980, when he began pursuing photography and art collection, developing The Buhl Collection.In 1992, Henry encountered a neighborhood homeless man who inspired him to create The SoHo Partnership, a non-profit organization to help other homeless and recovering homeless men and women secure full-time jobs and permanent housing. Later the TriBeCa and NoHo/Bowery Partnerships were established under the umbrella of the ACE (Association of Community Employment) Programs for the Homeless, now known simply as ACE.