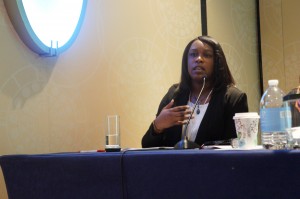 Last week at the New York Marriott Marquis, Food Bank For New York City held "NYC's Conference on Hunger and Poverty", which brought together leaders from the anti-hunger community, media and policymakers, New York City government, supporters and funders to look back at the last year of progress and move forward to close the Meal Gap. Over 500 attendees representing our network of member organizations packed workshops informing and inspiring them to offer new services, improve efficiency, recruit volunteers, and more effectively tell their stories."
ACE's Intake and Case Manager Coordinator., Elizabeth Israel, was asked to sit on the panel and speak about workforce development at Food Bank For New York City. It is their hope that by partnering with places such as ACE that they will be able to "strengthen the assistance that they provide to their clients in accessing employment and training services. Through this project, Food Bank will build the capacity of our TEN Partners and workforce development organizations to make high-quality cross-referrals in targeted high needs areas."
We are proud to have been chosen by Food Bank New York City as a place to refer their clients and grateful to be able to expand our reach to more individuals to whom we can assist in getting back into the workforce through our training program, educational services, and personalized one on one case management.