A Message from our Executive Director: Because of You Lives Are Changing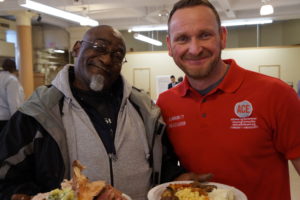 Dear Friend,
I continue to be amazed by the meaningful changes that you and others like you are making possible in the lives of the men and women served by ACE. During the last year, as a direct result of your support, 121 formerly homeless men and women graduated from Project Comeback, ACE's flagship vocational training program, by securing full-time employment. An additional 300 Project Comeback graduates used Project Stay, our life-long after-care program, in order to remain employed and advance in their respective careers. On top of that, hundreds of city blocks have been kept clean every day for tens of thousands of people to enjoy. These outstanding services and achievements are made possible because partners like you have made the cause your own.
Homelessness remains a devastating problem here in New York City, with an estimated 60,000 men, women and children sleeping in New York City's shelters each night. Given these unprecedented challenges, we must redouble our efforts to provide opportunities for individuals experiencing homelessness to move towards economic self-sufficiency.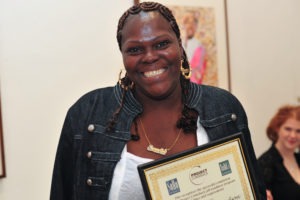 Your support of ACE is doing just that. By standing with the men and women of ACE, you are standing against the pernicious cycle of homelessness. You are empowering men and women to make significant positive changes in their lives through the comprehensive training, professional development and ongoing support that we offer.
Marvin's story provides a glimpse of the transformative power that becomes possible with your support. As you will read, after 25 years of experiencing homelessness, Marvin is now gainfully employed and, most important, reunited with his family and discovering his true self. Thank you for believing in these amazing men and women as they pursue their dreams and their inalienable right to happiness.
With gratitude,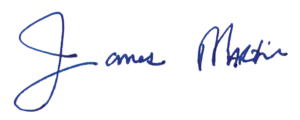 James Martin
Executive Director
---
Marvin's Comeback Story:
Do You Know What It's Like to Sleep Under a Bridge?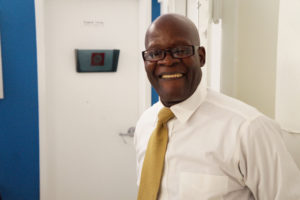 Marvin is a native New Yorker. He grew up the 10th of 13 kids in a tight-knit family. Probably not so different from you, his family was everything.
When asked to describe his childhood, without pause, Marvin said, "I had a happy childhood. Life was good."
And then, at 18, things changed. Marvin's friends introduced him to drugs and alcohol—his childhood and the accompanying happiness came to an abrupt end. He started looking for his joy in his new habits.
"I fell in love with the drugs. It made me feel alive. I had no worries with it. I could escape my responsibilities."
"That homeless guy you see on the street. That was me."
Marvin was soon homeless. He even suggests that you may have noticed him: "That homeless guy you see on the street. That was me. I was homeless for 25 years. Living on the street. Do you know what its like to sleep under a bridge, on roofs, behind buildings? I do."
"I didn't get to say goodbye because I was in an abandoned building getting high."
In 1997, Marvin's mother passed away and Marvin wasn't ready to face his family. About that time, Marvin said, "I missed the funeral. I didn't get to say goodbye because I was in an abandoned building getting high." In 1999, Marvin experienced another tragedy—the death of his father. "Again, instead of going to the wake, I got high. The decision to use drugs destroyed my life."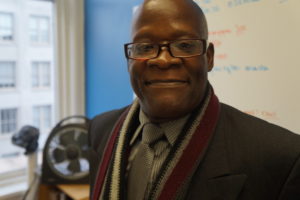 From 1986 to 2011, Marvin lived on the streets, isolated from his family and in a desperate cycle of self-destruction. Then, on December 23rd, 2011 he vowed to change. "I went into a basement looking for something I could sell, and when I came out the cops were waiting for me. They put the cuffs on me and I just knew that I had to change. I will never forget that day."
Marvin spent the next three years in prison and then transitioned to an inpatient treatment program. He returned to New York City in 2015. For the first time in decades, he was clean and he was completely focused on building a life he could be proud of. A friend at his housing facility told him about ACE and Marvin enrolled the next day.
ACE's classes, work experience and positive atmosphere had an immediate influence. "I saw how they do business at ACE and I wanted to be like them." For five months Marvin built his vocational skills, studied and worked.
Marvin met regularly with ACE's staff. Before long, he was finding job leads and going on interviews. He received a call back interview at a popular restaurant in Manhattan. At the interview, he spoke with the manager for about 20 minutes. "Then, it happened." Marvin remembers that moment, "When the manager said, 'When can you start?' It felt incredible."
"When I talk to my family now, I am not ashamed."
For the past 8 months, Marvin has been employed at his first legitimate job since 1986, and he has maintained sobriety since that day in December of 2011. Marvin continues to meet with ACE staff on a regular basis to make the most of his opportunities for career growth. Marvin has also sought the forgiveness and understanding of his family for his past mistakes. "When I talk to my family now, I am not ashamed. I have a relationship with them.  My nieces and nephews, they call me Uncle Marvin."
Marvin also has a message for you—"I'll never forget how you helped me. I want everyone who supports ACE to know, you've changed my life and you can do the same for others. Thank you."
"I'll never forget how you helped me. You changed my life. Thank you."
There are more hard working men and women like Marvin making their comeback right now. Make a gift today and take part in their incredible journey to economic self-sufficiency.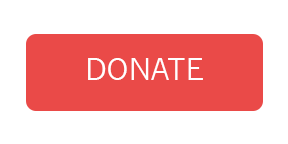 ---
ACE Interns – Place Success in Your Business
ACE has an offer for businesses in the community that need part-time workers and would like to offer valuable work experience opportunities to men and woman in ACE's job training program: it's ACE's internship program. Current partners such as Kibel Companies, Ladurée, Dean & Deluca, Elizabeth Street Garden, Uniform and Old St. Patrick's Cathedral have been benefiting from this pool of candidates for years and months, and you can too.
Our intern candidates have received field specific trainings in OSHA, Custodial Maintenance, Customer Service and Food Handling Safety and are prescreened by ACE staff based on their competencies and hard work. Candidates spend at least one month in our training program prior to interviewing for an internship position.
ACE's dedicated support staff is available around the clock to provide assistance to on-site supervisors. Feedback sessions are scheduled on a weekly basis to review the intern's progress.
Each candidate spends 12-15 hours per week for up to three months in an internship before cycling out. Their internship will serve as a valuable experience in their continued journey to self-sufficiency, and new vetted candidates are provided to continue the internship. All interns are covered by ACE's worker compensation insurance and liability insurance.
To inquire about how to bring talent to your organization through an ACE internship position, contact Travis Tinney at ttinney@acenewyork.org.
---
Say Hell
o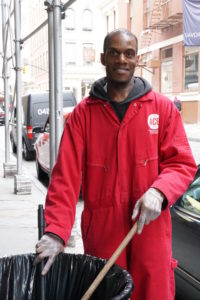 It's time to get acquainted with the men and women keeping your block clean. Each day, ACE participants and Contract Services team members set out to keep hundreds of our city blocks clean. This is an important and tough job that truly improves the beauty of our communities and touches our daily lives.
If you see an ACE team member working on your block, feel free to say hello and thank them for their hard work. The positive feedback you offer them might make their day and give them a boost as they work to overcome the challenges of transitioning to economic self-sufficiency.
Having the support and appreciation of their community in difficult times makes a world of difference to the men and women at ACE. So if you see us, say hello!
---
ACE By The Numbers


Fall Raffle Fundraiser